Toyota Hilux Revo Double Cab Specifications & Features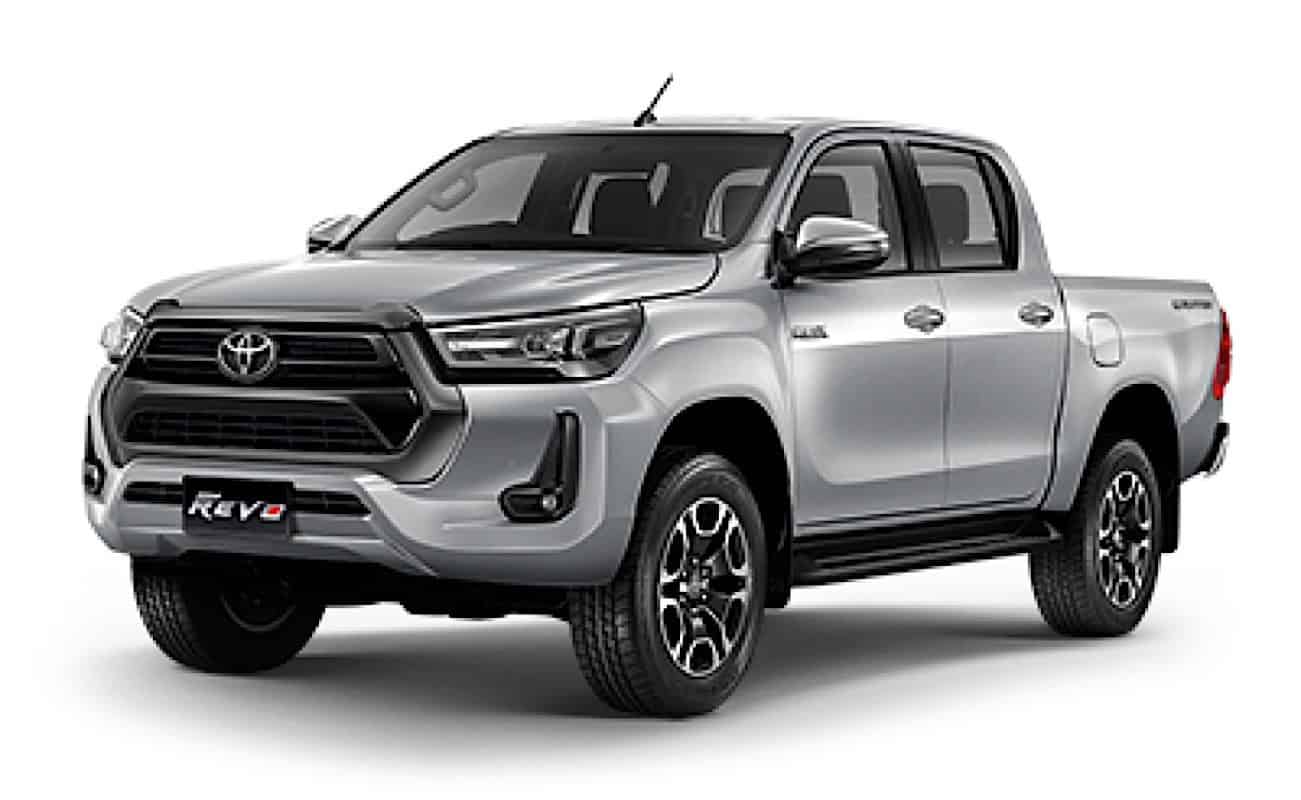 Introduction:-
Toyota Hilux Revo Double Cab heavy-duty pickup offers a high-performance diesel engine. Total 28 variants are available in this new pickup. When we talk about its engine specs and performance, it comes with a heavy-duty 2393 cc of capacity. Toyota Hilux Revo Double Cab provides you a variety of transmission specs depending upon the variants you choose, as it comes with an automatic, manual, and ventilated transmission gearbox. It's a five-seater vehicle with a length of 5345mm and 1855mm wide and consists of a wheelbase of 3085mm with 217mm ground clearance.
Key specifications and features of Toyota Hilux Revo Double Cab:-
Price:- Toyota Hilux Revo Double Cab comes with a pricing between ₹16,62,815- ₹8,96,66,698(approx ฿770,000- ฿1.2 M).
Variants:- Toyota Hilux Revo Double Cab comes with 14 more variants available are:-
Prerunner 2×4 2.4J Plus
Prerunner 2×4 2.4E
Prerunner 2×4 2.4E Plus
Prerunner 2×4 2.4E AT
Prerunner 2×4 2.4E Plus AT
Prerunner 2×4 2.4G
4×4 2.4E Plus
Prerunner 2X4 2.4G Rocco
Prerunner 2×4 2.4G AT
Prerunner 2X4 2.4G AT Rocco
4×4 2.8G
Prerunner 2×4 2.8G AT Rocco
4×4 2.8G AT and 4×4 2.8G AT Rocco
Power of Engine:- Toyota Hilux Revo Double Cab is enhanced by a 4-cylinder diesel engine with a power of 2393 cc which generates power of 150hp along with 343Nm of torque.
Also available in a variant having 2755 cc of a 4-cylinder diesel engine with 177hp of power along with 450 Nm of torque.
Transmission:- It comes with three different options:-
1.Automatic transmission gearbox
2. Manual transmission gearbox
3. Ventilated discs
Security Features:-
Toyota Hilux Revo Double Cab is a full pack in terms of security system as it provides a central locking system with power locking doors and an inbuilt anti-theft device along with an immobilizer.
Comfort and luxury Features:-
This particular vehicle is loaded with luxury and a comfortable experience which includes- starting with a common part i.e air conditioner with automatic suspension support, electronic control unit, smart and durable entry doors, and windows, heater, and air ventilation with glove box cooling.
Priorities are set for the customers by giving them a push start button with automatic headlights and adjustable seats too.
You will get multifunctional power steering with cruise control, foldable rear seats along with headrest, fancy interior lighting with low fuel alert. The car also includes various cup and bottle holders for a better experience.
Connectivity and Entertainment options:-
Toyota Hilux Revo Double Cab comes with voice control and touch screen features for easy access. Supports Bluetooth, USB, AUX cable, CD, and DVD player. Additionally includes navigation, front speakers, rear speakers, and 2DIN audio support.
Interior and Exterior view:-
Now coming to its fancy part i.e looks. The whole interior is decorated with attractive lighting. Includes digital clock and digital odometer as well as a multi-trip meter which ultimately helps in a long journey. Also, have ECON mode and fuel tank indicator. The most premium part is its electrically adjustable leather seats along with a leather cover on the steering wheel also.
Its exterior view includes adjustable headlights with fog lights too, side mirrors with power-adjustable mode, defogger on rear windows, alloy wheels, tinted glass, and a door mirror with sidelight indicators, side steps to the east entrance, integrated antenna support, and remote fuel lid opener.
Safety features:-
Now coming to its most-awaited and reliable part i.e What level of security it provides? So, it has all the inbuilt modern technology and intelligence applied for the effective security of users. It includes HSA which stands for hill start assist, traction control, warning for engine check, provides airbags for driver and passenger, and also front side airbags.
Provides an effective and durable locking and braking system with child locks, anti-lock braking system, assistance for brakes, EBD and VSA(vehicle stability assistance), seat belts, warning on not wearing seat belts, rearview mirror capable in day and night both and rear camera for easy parking support.
Sensors:-
For crash detection, front, and side-impact beams and provides a warning for any opened door.
Conclusion:-
Vehicle is fulfilled with a stock of loaded features. It provides a high level of security without compromising on your luxury too. Provide great comfort but with a heavy-duty powerful engine of 2393 cc of power. If you are a user who likes luxury with power then you must go for this machine, it will never fail in your expectations.