Smart and Sustainable: 3 Emerging IoT Solutions for Connected Cities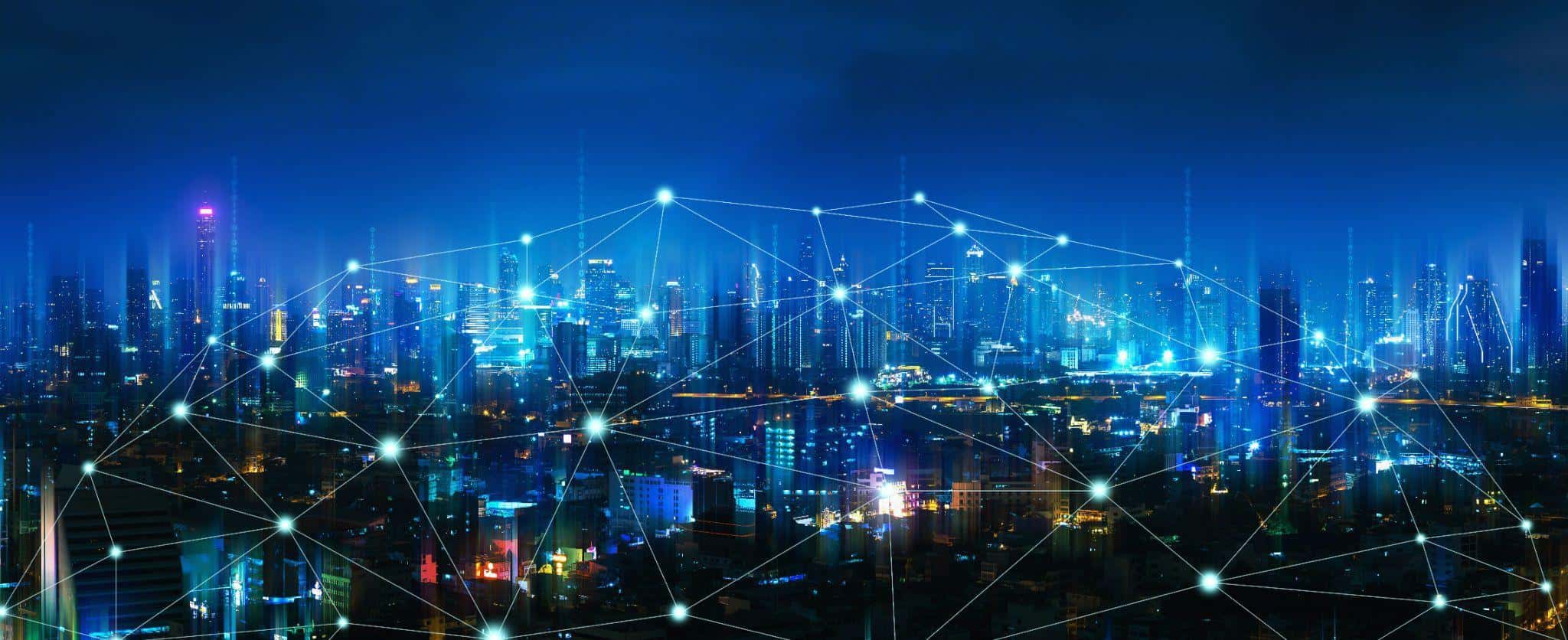 The world is experiencing a data explosion of epic proportions. The intelligence of objects all around us has given rise to smart cities. These intelligent cities are powered by smart city technology. IoT-powered waste management systems, connected cars, and smart utility meters have all come together to make public spaces more energy efficient, liveable, and sustainable.
Metropolitan authorities need to invest in green energy infrastructure. In this piece, we will underline the economic opportunities in climate tech.
Why Climate Tech?
Scientists believe that cities generate over 70% of the global CO2 emissions. These emissions are caused by traffic gridlock, contamination from factories and buildings, and an ailing public transportation infrastructure. The resulting environmental impacts are astonishing, stimulating governments worldwide to enact stiffer regulations to mitigate CO2 levels. As of 2021, 124 countries have committed to attaining a carbon-neutral world by 2050.
To achieve these goals, urban centers require tremendous support. IoT technology can be of immense benefit to modern living. Connected cities, today, need smart utility meters, smart electrification, and smart waste handling solutions to curtail carbon emissions. Climate tech startups can seize this opportunity and move into this space. Also, oil and gas companies can rebrand as energy companies and embrace clean, green energy.
In the past, climate tech businesses had limited coverage of renewable energy. Poor results caused their venture capital-sourced funds to go down the drain. Thankfully, with recent multi-sector collaborations, climate tech companies can set their sights on building a sustainable economy once again.
In broad terms, any organization committed to decarbonizing the world is a climate-tech company. Public interest in the sphere is gaining momentum and new talent and technology are in high demand. Although the pandemic slowed down the market as it did many others, analysts portend that climate tech is still a viable investment prospect.
Smart City IoT Use Cases
The vision of a connected city centers around data obtained from public infrastructure, vehicles, and buildings shared between smart services and people. Smart city tech informs town planners of how to manage the various aspects of the city's functionality, such as air quality, water quality, energy transfer, transportation, and security. Such IoT solutions operate in isolation or in-sync with one another, thereby creating intricate ecosystems. With this, state governments can develop sustainable strategies for the proper management of public assets.
Let's look at three possible use cases of IoT in intelligent cities:
Smart energy grids that gather data from buildings to enable utility providers manage energy better or deliver services quicker. In a smart city, a light bulb is not just a light bulb, it's a communication node that tells the power company that it has blown a cell or ruptured a cable.
Smart trash cans can transmit information to the waste management board to book a pickup.
Vehicles coordinate with parking facilities to find vacant spots and curb traffic jams.
Three sets of city stakeholders are instrumental to this development: the local government, climate tech businesses, and residents. Climate tech businesses develop eco-friendly business blueprints and scale them for clean energy that is driven by smart solutions for public infrastructure, utilities, and services. The authorities are concerned with improving air quality, distributing energy efficiently, and reducing traffic. Residents communicate and interact with the authorities and connected utilities themselves through smartphones, smart homes, smart trash cans, and smart cars.
IoT solutions in smart cities are enabled by sensors, smart contracts, cloud infrastructure, web and mobile applications. Sensors capture data and send them into cloud storage through the web. The cloud platform processes the data and takes action, reaches a resolution, or makes recommendations. AI, embedded into the platform facilitates this process. Useful information is then displayed on smart device dashboards.
Application Areas for Sustainability
There are several ways that smart city tech can assist municipal governments. More than 70% of cities use IoT for traffic, security, and water-level monitoring. Let's go over the most common IoT applications in a smart city.
There are three main ways that smart city technology can improve the activities of municipal authorities. Over 70% of cities use IoT systems for traffic, security, and water level monitoring. Here are the most common IoT applications in a smart city.
1. Smart utility meters
Smart meters are replacing analog meters because they do a better job of tracking gas, water, and electricity consumption. A standalone device is mounted on a building and is connected to a smart energy grid. The utility provider receives precise meter readings from the transmitting sensor in real time with no human intervention.
Utility companies use the captured data to take crucial steps for sustainable utility consumption such as leakage detection, supply shocks, and distribution optimization. Ultimately, they can curb wastage and save money.
IoT development companies, in addition to producing smart gadgets, promote greener choices. A smart device doesn't only save energy, it inspires the user to find efficient ways to use electricity and fuel. When prices are high and inconsistent, they'll choose off-peak periods to cut costs, while searching for renewable alternatives. Furthermore, companies can reduce CO2 emissions that result from meter-reading trips.
2. Smart transportation
Self-driving automobiles often come to mind when we think about smart transportation. Smart transportation is more than vehicles—it's the interplay between smart city technology, machines, and people. Transportation companies use smart city tech to provide convenient access to efficient public transportation. IoT mechanisms help determine fill rates, optimize routes, and react rapidly to emergencies. Even the slightest change in schedules can bolster traffic rates while lowering CO2 levels.
Emerging solutions that improve city transportation include:
Electric carsharing
Smart traffic signal control systems
Speed cameras
Smart public transportation systems
These innovations help municipal authorities to manage a city's resources and make them more sustainable for future generations. Also, there will be fewer accidents and less traffic congestion. The air will be cleaner and less energy will be expended, preserving the city's budget.
3. Smart waste management
The vast majority of American cities still collect waste the same way they did 50 years ago. San Francisco, however, is bucking this trend. The city is raking in considerable profits since incorporating technology into it's recycling and composting initiatives. In IoT-based smart waste management, smart container-line robots wash and reclaim useful plastic after optical sorters. Optical sorters cannot distinguish between thermoforms and PET bottles, but robots can. This helps to improve recycling rates.
Generally, IoT-based smart waste management comes with enormous benefits. Sensors attached to receptacles track trash levels, spillovers, fires, and violations of the law. ML programs forecast pick up times for waste and the workload for collectors to prevent the proliferation of bins throughout the city.
Wrapping it up
Cities, nowadays, are synergizing with the private and public sector to make them cleaner and more connected. IoT companies in climate tech, oil & gas, and utility provision can contribute to the scaling of tech innovations geared toward providing clean energy. To fully maximize IoT applications in a smart city, new tech talent and innovative improvements need to emerge to facilitate efficient energy supply and reportage for sustainable living.