Mellow Board Review: The German Way in Electric Skateboards' Industry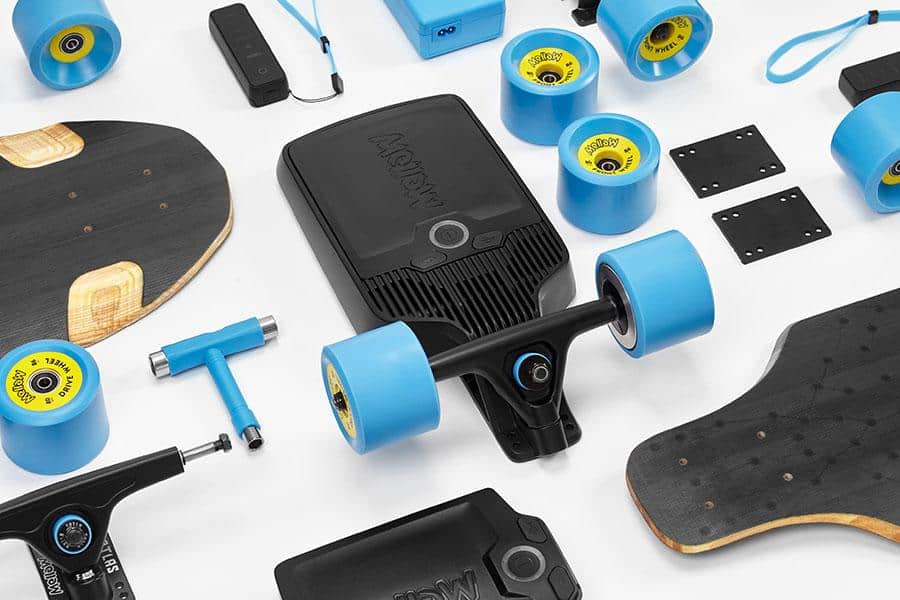 The cities are growing and commuting by bus or car is getting longer due to the traffic jams. It is not a surprise that some people are annoyed by the old ways of urban traveling. Thus, they try to find new methods of traveling to work, pub or to meet with friends. Those new means of transportation are not only sometimes much faster and convenient but also more eco-friendly.
A group of German engineers came up with a great idea of modular electrical skateboard design. They spent almost 1000 days designing, engineering and fine-tuning to create the best possible solution for urban travelers. They won several design awards including the German Design Award which places their product's quality with brands like Daimler and Jil Sander.
The Mellow Drive is the next level of electric skateboarding. You can buy either a pre-built electric skateboard with amazing features or buy a Mellow Drive Set and install it directly on your skateboard's deck. So today I am going to review Mellow Board as I had a chance to try it out.
Highlights
The Mellow Board team has created a modular drive system for skateboards or longboards that can be attached underneath any deck. The only thing you need to do is unscrew your skateboard's rear truck and replace it with Mellow Drive.
The Mellow drive has a top speed of 40 km (24.8 mph), the maximum grade of 15% and a maximum range of 12 km – 15 km (7.5 mi – 9.3 mi) in eco mode. It weighs 3.9 kg (8.6 lbs.) and the size is 366 x 174 x 59 mm (14 x 7 x 2.5 inches). It has a 2-year drive and remote warranty as well as 1-year battery warranty.
Design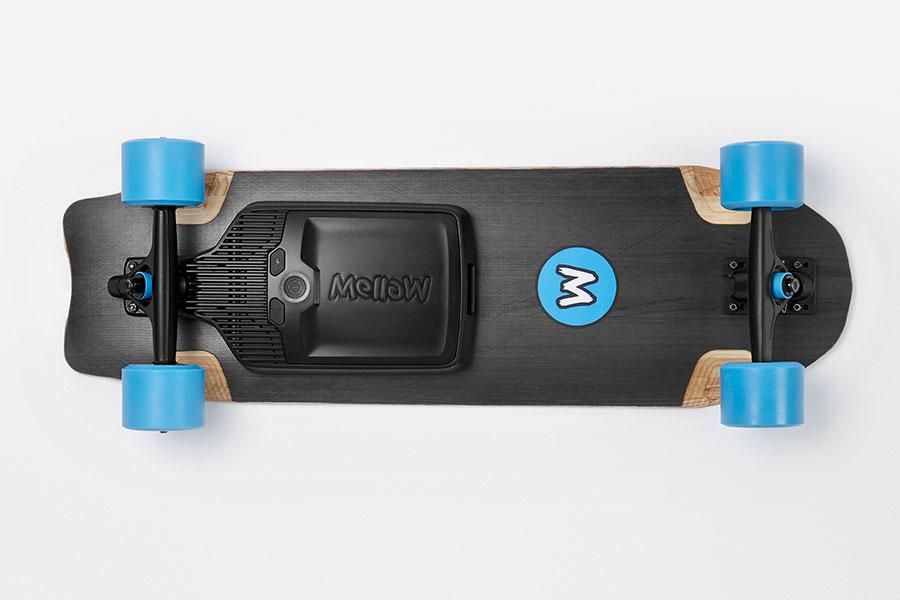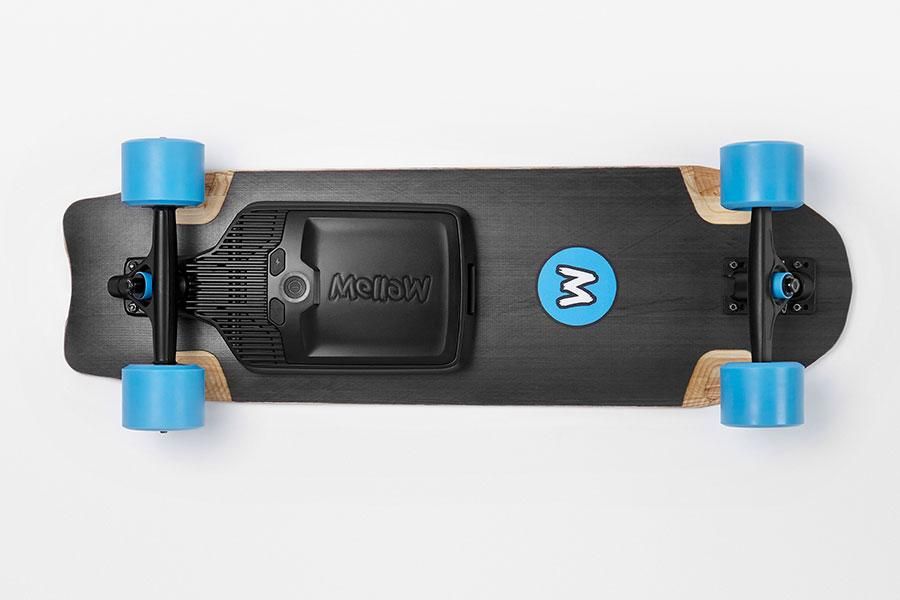 Image credit: Mellow Board
There was a lot of effort put into Mellow, so it is not a surprise that it is beautiful and powerful. The main frame of Mellow Drive is one solid magnesium cast. This can be screwed to every skateboard because it has six screw holes and pretty small length of 180 mm (7.1 inches). The magnesium frame holds a battery pack with Lithium-ion cells provided by Tesla's supplier. The battery is easily swappable with a simple inbuilt mechanism.
The battery packs fast-charges for 45 min, and when charging normally, it fully charges in 3.5 hours. The best part is that you can have several batteries because they are changeable. Also, the Mellow Drive is air travel certified.
The Mellow Drive contains two in-wheel motors, and they are put in such places that they do not make any significant sound. Also, all the essential parts are covered, and you do not need to be scared of breaking something. It is even IP65 water and dust proof. I have tried it during the rain as well as on dusty pavement, and it worked like a charm.
One of the more exciting aspects of Mellow Drive is its remote. It has a kind of innovative design, but in the same way, it is intuitive as well. Remote connects via encrypted Bluetooth connection to the Drive, and you are ready to go. You slide the upper part of the remote upwards to accelerate and move that part downwards to brake. It has a LED light that notifies you about the state of the battery, and when the battery is almost empty, it vibrates. You can choose between 4 riding modes and set them by remote or via a mobile app.
Ease of Use
The Mellow board is super easy to use and gives you a lot of freedom to choose how you want to ride. Some other electric skateboards are pretty bulky and heavy. As a result, you cannot use them as a normal skateboard. However, the Mellow Drive does not weight a lot, and it allows you to ride and enjoy electric skateboarding as well as to use it as a normal skateboard. This will enable you to learn foot breaking and to skate in general.
One of the best things about Mellow is its water and dust proof system. I have ridden Mellow through rain, dusty pavements, and even on a gravel road and it worked without a problem. In this kind of situations, Mellow is probably unbeatable as my friend told me that he tried to ride his Boosted V1 through rain and the board almost instantly stopped.
It is imperative that every now and then you should update and make your electric skateboard more efficient. With that in mind, the Mellow team created a mobile application which is supported by iOS and Android operating systems. This app connects to your board and installs updates to make the Mellow Drive more efficient. Also, the app monitors your data like charge, ridden distance, speed, and range. As I mentioned before, you can choose four riding modes which are written below.
4 Riding Modes
Rookie – The mode made for complete beginners. It does not accelerate fast and has a top speed of 10 km/h (6.2 mph). Kids can use it, older adults, first-timers as well as experienced riders can use it too. You can give the board to a friend for a trial spin without the fear that he will break something.
Eco – The eco mode is mostly made for general use. It is made to save the power and extend the possible range to 10 km – 12 km. It only allows a top speed of 25 km/h (15.5 mph), and it might be the best mode for longer commutes to work or elsewhere.
Pro – This mode is not really efficient as it drains the battery faster than any mode mentioned before. But if you like speed, you might try it, as the top speed of this mode is 40 km/h (24.8mph).
Endless – The name says everything you might need to know. This mode allows you to kick the board 3-4 times and the battery will maintain the speed of your kicks. This mode really saves the battery charge as you remove acceleration which seems to be an aspect that gets the battery exhausted.
Price
Sadly, all those features do not come cheap. The cheapest Mellow Drive set costs €€699 for the slower set, and the most expensive skateboard costs €1249. It is surely not the cheapest skateboard but what if you decide not to buy a motorcycle or a car and instead buy this?
Not only will you be faster around the city, but also you will be a more environmentally friendly person.
Verdict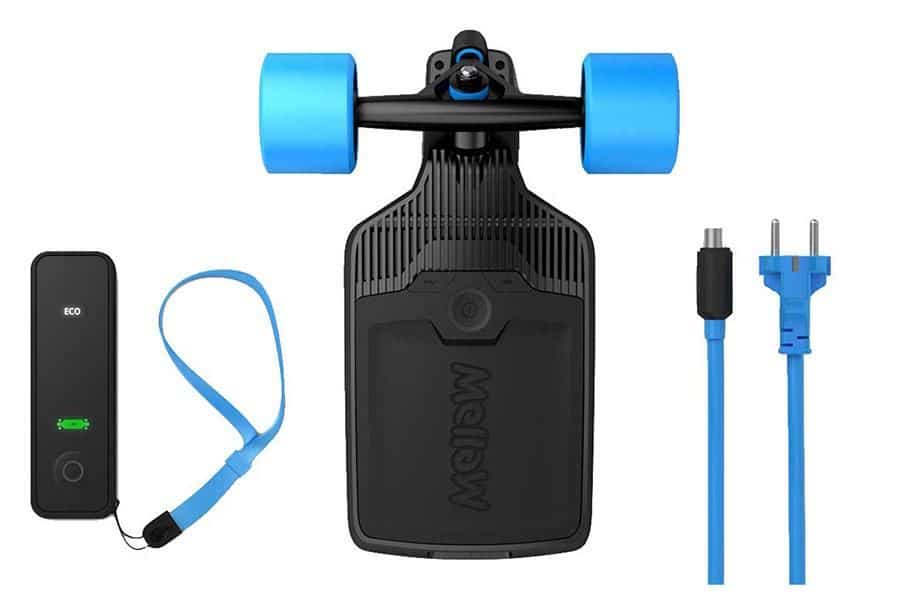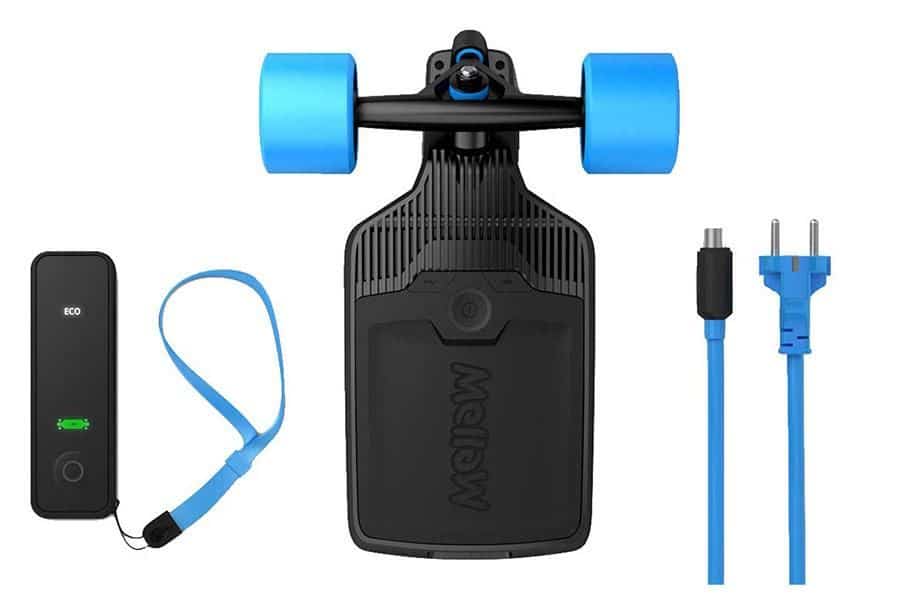 Image credit: Mellow Board
Pros
Modular design
Rides like a skateboard
Swappable battery
Mellow Drive can be attached to any skateboard deck
Allows long range commuting
Cons
None
Conclusion
This might be one of the best electric skateboard solutions on the market to this day. If you are still thinking, you might try to search for Mellow board owners on Facebook or Reddit and ask for a trial ride. Also, keep in mind that this is a product that is made in Germany. Therefore, it has the outstanding build quality and design.