7 Most Important Android and iPhone Apps for Cyclists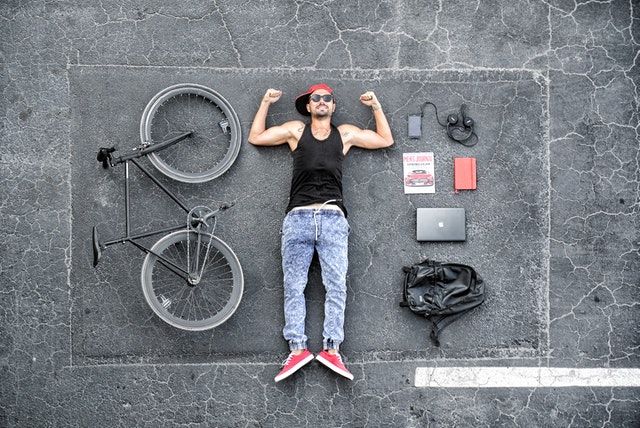 Technology has made biking more convenient and safe by making information readily available. You no longer need a GPS or computer to navigate your way through the hills. Just like Google maps most of these apps, provide alternative routes, come with voice commands and keeps a record of your cycling routes.
Here is a review of 7 of the most useful cycling apps you can find on both iTunes and Google Play Stores. Some of the apps in this list are not purely for navigation purposes. However, every safety conscious cyclist needs them.
1. Komoot
Do you need a route planner? Here is one that most people consider the best route planner in the world.
What does it do?
The designers of the app created it to promote adventurous cycling. It offers several route options, most of which are less conventional. All you have to do is enter your current location and the intended destination. The app will then suggest different routes.
The voice command ensures that you do not have to keep looking at your phone's screen to figure out your route. Since the app is most for adventurous riders, the directions are always not the shortest, making it different from most navigational apps.
The free version of the app allows you to plan only for one region. You will pay for each additional area you add.
Pros
• Provides routes for bike tours and those who wish to explore new routes
• Saves completed routes
• You can use it offline
• Includes elevation profiles for every route
• Incorporates bike lanes, pathways, trails and unpaved roads on the route options
• Adjust route suggestions based on the rider's fitness
Cons
• The routes are not the shortest
• Most of the trails are not labeled by name or number, just shown as travel lines.
2. Strava
Though the second on this list, Strava is the most popular app among riders. It provides many metrics that make riding more convenient such as distance, speed and time. It also records and tracks your riding routes. However, what sets this app apart is its intuitive interface and social functionality.
What does it do?
Strava's outstanding feature is its ability to create competition between riders using the same route. You can join the riders club on the platform. It allows you to keep tabs with the latest news and riding challenges. It also gives you details on the progress of your cycling friends.
Pros
• Tracks and keeps a record of cycling routes
• Connects you to other riders in the area
• Keeps you up to date with upcoming cycling events in your area
Cons
• Strava's social functionality requires that the rider provide personal information, which it then shares publicly.
• Sharing info on your cycling routes means that anyone on the platform can tell where you live, work, go for lunch and when you take a specific route. If privacy is your concern, then you will have to forego the competitive edge offered that Strava offers and settle for another app.
3. Bike citizens
Bike Citizens is the best mobile app for riders in a new town or city. Besides showing routes to various destinations, it provides a list of places worth visiting in the area and how to get there. The app is a tour guide and a route planner, all in one.
What does it do?
Bike Citizens does most of the primary functions of a cycling app such as showing routes to your destination. You can opt for the quickest route suggestion, fast ride areas or easy routes for leisure riding. The app also understands that some bikes are suited for specific route profiles only. Therefore, you can provide your bike's model, and it will pick the best route for you.
The travel guide feature of the app also makes it an essential app for tourists. The frequently updated database has over 450 European cities.
Pros
• No internet connection required after downloading the maps
• Riders can add routes to the database
• Offers several maps on a single platform
• It does not save your personal data
Cons
• You have to pay for the travel guides. You can buy one or settle for a monthly subscription
4. Bike computer
It is an app that comes with a bike mounting kit. It turns your phone into a GPS tracker, recording the routes, their elevation and riding speed. But it does more than tracking your cycling.
What does it do?
The most important feature of Bike computer is its "Keep me Safe" feature. It detects accidents based on the bike's trajectory and speed. It sends an SMS to select emergency contacts after a preset time. The text indicates that you are in danger and where you are.
The app does not activate on rugged terrain to avoid false alarm. Even if there is an accident, you can always press the red button to flag it as false before it sends an alert. You can set the notification time to any value between 10 and 60 seconds.
Pros
• Its "Keep Me Safe" feature can be lifesaving
• It is more energy efficient than most bike mounted tracker apps
• It supports Bluetooth-based heart rate monitors
• Riders can share their riding stats to Facebook or Strava
Cons
• You need to buy the mount to use the app
• The "Keep me safe" is subscription-based
• Sharing information on Facebook and Strava may compromise personal information and safety
5. St Johns Ambulance First Aid for Cyclists
What do you do as you wait for your emergency contacts to respond to your Bike Computer alert? St John's Ambulance provides a solution for bikers that get injured.
What does it do?
The free app provides essential First Aid skills which cyclist s need. They include handling cycling related injuries such as cuts, head injuries, road rash and much more. The bulleted guides are easy to understand and follow through. A rider can use for personal injuries or help an injured biker.
Pros
• Comes in handy during accidents
• It is free
Cons
• It does not track your location or routes.
6. Bike doctor
What about having an app that you can use to service, repair, or maintain your bike?
What does it do?
Bike Doctor is a paid app that offers a step by step guide to a range of repair and maintenance services on the bicycle. It has over 20 tutorials that range from simple maintenance to more advanced repair services. You do need a background in mechanics to understand the instructions. 
Pros
• It is cheaper than a going to the bike repair shop
• You can use it anywhere as you do not need an internet connection, most of the time.
Cons
• It is not for navigational purposes
• It does not cover all services
7. BBC Weather
We conclude this list of essential apps for cyclists by looking at the BBC Weather app. Weather is a critical variable for biking as no rider wants to be caught up in a storm in the middle of nowhere.
What does it do?
BBC Weather is among the most reliable forecasting apps in the market. It can tell you the expected weather conditions in days, hours and even minutes. It, therefore, allows you to plan your riding, knowing when it is going to rain and which areas to avoid at what time.
Pros
• It is a free app
• You can have an area-specific minute or hourly weather forecast
Cons
• Requires constant internet connection
Conclusion
Navigational apps come in handy by ensuring you get to your destination, learn new routes or even meet new hobbyists. However, be wary of apps that ask for your personal information then shares it publicly. Complimentary cycling apps such as Bike Doctor, St Johns Ambulance First Aid for Cyclists, and BBC weather are also necessary for a secure ride.