How to choose Right POS (Point-Of-Sale) for Your Business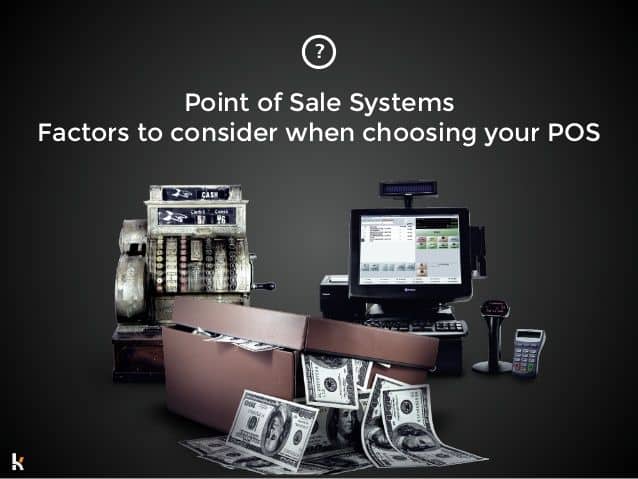 Are you on the edge to start a business, Doesn't matter which type of business you are going to start, a high-quality POS System will definitely multiply your opportunities.
If you want to compete for your rivals and also want to look different from the mob then you have to leave old methods of sale system. You may be confused to pick the right one because there are a variety of options.
Here I pointed out some aspects which will surely help you to choose the best POS for your business.
Tips to choose the Right POS for your business
Before choosing the POS for your organization, you have to look after some facts. Here is a step by step guide for you. Follow it and pick the best one according to your business need.
1)Figure out the requirements of your business
First of all, you have to decide the features, tasks, and service which you need to speed up your business. Some more noticeable things must be considered in the initial stage are checkout process, catalogs and consumer relationship management.
In case you have a POS system and you want to enhance it then distinguish the missing features. Make a list of all these features. If you feel that there are some clumsy tasks which need to be modified then talk to your staff.
2)Make a list of required hardware
After selecting the virtual features its time to point out the hardware requirement. There may be a variation in buying hardware, some POS can run on your old hardware and some may require a new one. Analyse the tools you need in your shop. If you have a few types of equipment then make a list of new ones.
See more: POS system for convenience store
3)Fix a budget
The cost of POS depends on your business type. There are various kinds of POS available and you have to choose according to the size and potential of a business. If you are looking for a traditional software, it costs from $ 1200 to $ 2500. On the other hand, you have to pay $50 to $200 monthly for Modern Cloud-based POS system.
4)Inspect and differentiate POS systems
In this section, you have to analyze POS systems. In this work, you can take help of some industry evaluation and can observe the experiences of other retailers. Communicate with other buyers and ask them about their POS systems.
Here you can search online and visit the sites of online POS dealers. Make a call to POS dealers and put questions about their services, price, and products.
Here I am figuring out some POS types, analyze them:
LightspeedPOS: For a period of 10 years lightspeed is multiplying the opportunities of retailers. Its main characteristic is that it can be accessed from any kind of device.
PayPal mobile solutions: If you are running a movable business then PayPal is the best pick for you. You can easily send statements and access the customers with your smartphone.
Shopify: If you are an online seller then Shopify will surely fulfill your purpose. Basically, it is an e-commerce platform.
Square: If most of your transitions happen through credit cards then Square is beneficial for your organizations. Square's POS provides you fast depositing and online billing.
5)POS in working
After deciding goals, hardware, budget and inspecting, its time to see the POS in working mode. For this, you can ask for references from the POS dealers. Find out the similar business and observe their POS. If you are unable to find out same business type then you can request POS dealers for the free demo. Now deeply analyze the POS system and observe its speed, performance and user ease. Also, imagine the ways for adapting the new POS for your business.
6)Set up in a proper way
Finally, you got the right POS for your business and all the required tools and software along with you. Now its time to install your new POS and running. There is a variation in the setup POS because the requirement and size of every business is different from others.
Every POS dealer provides proper instruction for installing and set up of POS but still, you are confused then ask the vendor how to do. If you are not satisfied yet, use a template. All the well developed POS dealers have their personal IT consultants, consult them and definitely, you will set up your POS in a correct way.
7)Make your POS system more effective
After establishing its time to find out the tricks, by applying them you can upgrade your POS system. Figure out new apps and hard wares which will make your POS up to date.
A good relationship with your vendor will also enhance the functionality of POS.
Well..choosing a POS for your business is not an easy task but by following above tips you can adopt an ideal one. A good POS is the basic need of your organization. Still have any query regarding it, comment below