Best Ways to Extract Audio from Your Video
Only need the audio from your video file?
You can utilize the audio clip as a background sound for another video, crop it, or combine it with other audio files to create a mashup.
Whatever creative production you're planning, you might find it tricky to extract audio clips using unfamiliar groupware, especially if it's not something you do regularly. Downloading unknown programs might cause you to compromise your audio quality, or worse still, your computer might become vulnerable to virus attacks.
There are many tools available to help you in pulling out sound clippings from various video formats, including MP4, AVI, FLV, MPEG, and others. You can extract audio using desktop software, mobile apps, and online services. Continue reading to discover the ways to extract audio clips from any video.
Three Easy Ways to Extract an Audio Clip from a Video
From all of the available tools and methods to extract audio, choosing the best one is essential, as it will give you control over the role it'll play in your creative process.
You may find yourself in these situations:
You hear a good music track in a movie and want to save just the audio as a background for your video compilation, etc.
Turning cartoons and other shows into audio files so you can access and hear them whenever and wherever you want, such as using them as a ringtone, message alert, or alarm.
Listening to podcasts or lectures you want to replay while you're doing other things such as jogging.
Here are three methods you can choose from to extract the sound file from a video:
With a downloaded and installed desktop application or piece of software
With free online services available from online websites and platforms
With a free mobile application
How to Extract Audio from Different Video Formats with a Desktop App
There are many free downloadable programs on the internet that can aid you in extracting your chosen audio. One of the best audio extractor tools out there today is the Movavi Video Converter program.
About Movavi Video Converter
Movavi Video Converter is one of the many multimedia programs offered by Movavi. It's a video converter that lets users work with multimedia without sacrificing quality. Here are the other benefits of Movavi Video Converter:
No file size limit
Offers online user support
Trial version is downloadable for free online
Vast collection of presets and formats
Converts long videos in just seconds
Safe to download
Step-by-Step Instructions on Extracting Audio Using Movavi Video Converter
Here's how to extract audio from video with a desktop app.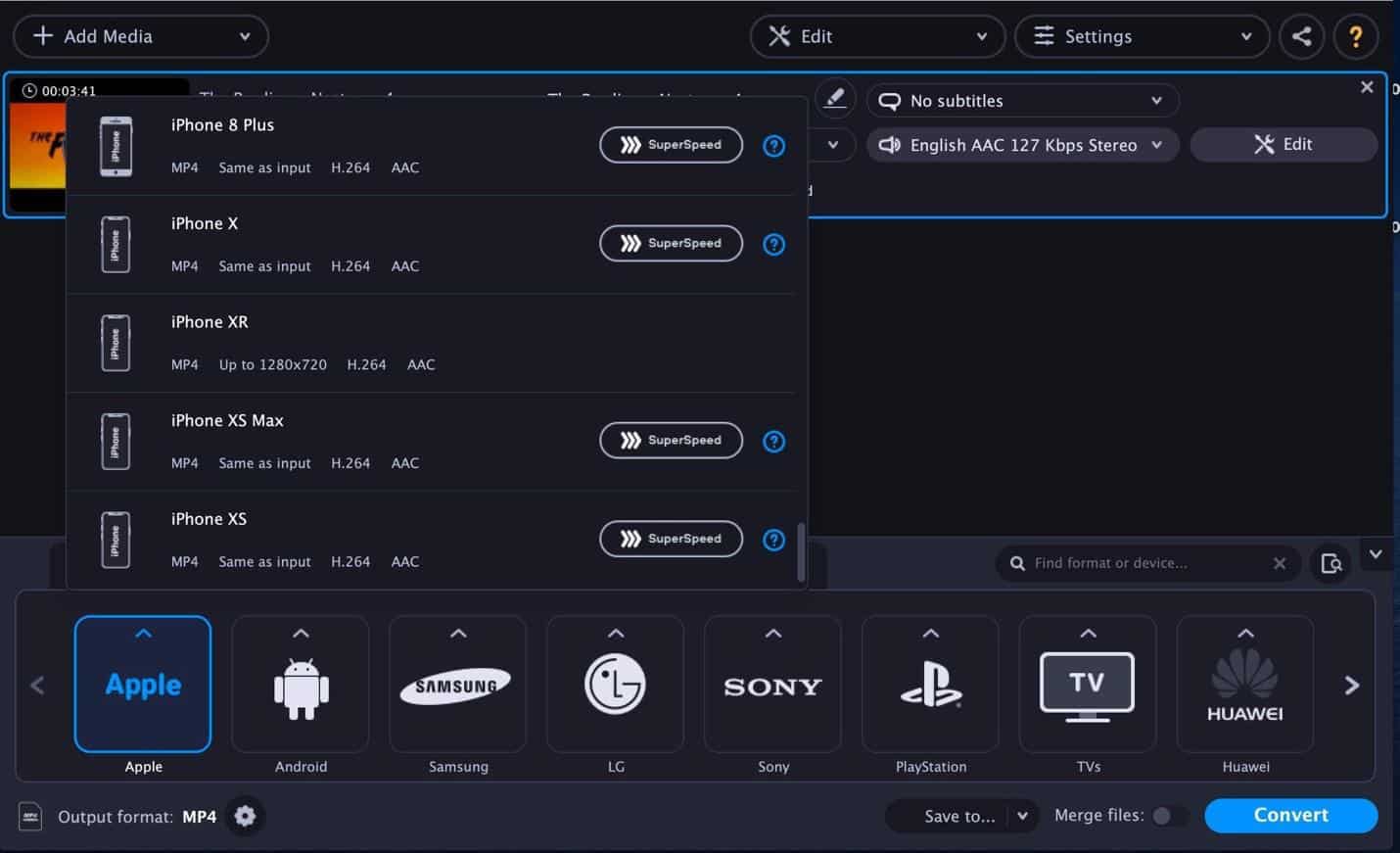 1. Download the Movavi Video Converter Software
Go to the developer's website and download the program. Movavi Video Converter is available for Windows and Mac.
2. Install and launch the software
Open the file you downloaded, install it, and then wait for the program to launch. The system interface is simple and easy to navigate and is suitable for beginners.
3. Choose the video file
Click the "Add Media" button on the top left corner of the interface. Continue by adding the video in any video format you want to extract the audio from by clicking "Add Video." Remember that the converter can process multiple files simultaneously, so it's not a problem to add more than one video file.
4. Pick a segment to convert
This is an optional step. If you want to convert just a particular portion of the whole video, you will need to follow this step.
To get the audio from a specific segment of your video, click the "Edit" button. A new window will open, and you can drag the start and endpoints to trim the video from there. Trim the video using the "Scissors" button to remove the segment included inside the two points. Delete the marked element and convert the remaining parts of the video.
5. Select the desired format
Click the "Audio" button to see all the audio formats you can convert your audio to. Choose the one you prefer.
6. Convert the file
Finally, remove the audio from the video by converting the video and then saving the audio into your selected folder. After the process is complete, the folder containing the output file will open automatically.
Extracting Audio Using an Online Service
If you don't like downloading programs onto your computer or laptop, you can opt to extract your audio from a video using online platforms for free. Online tools usually work the same way when processing for an extraction, like the Audio Extractor online service.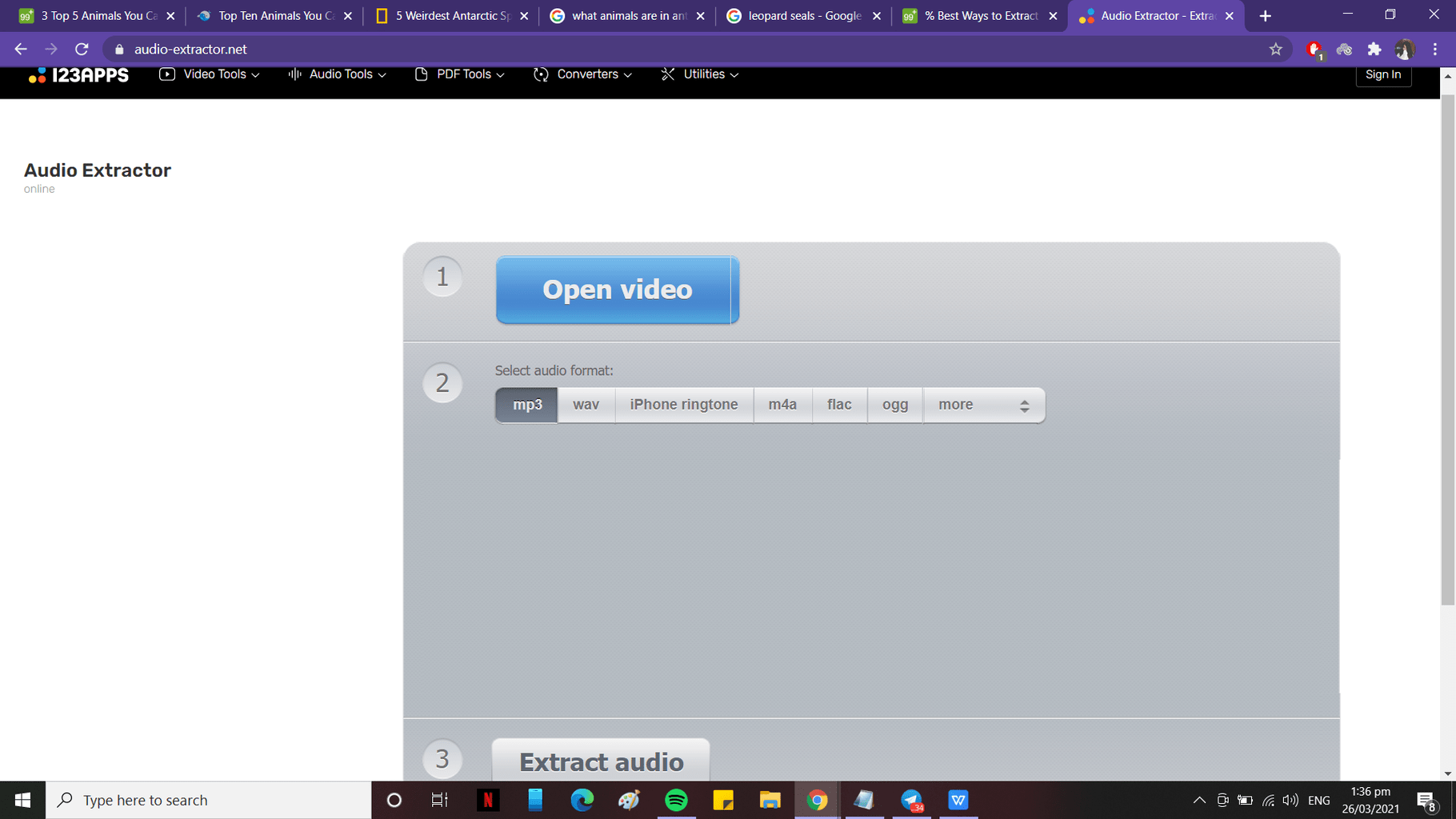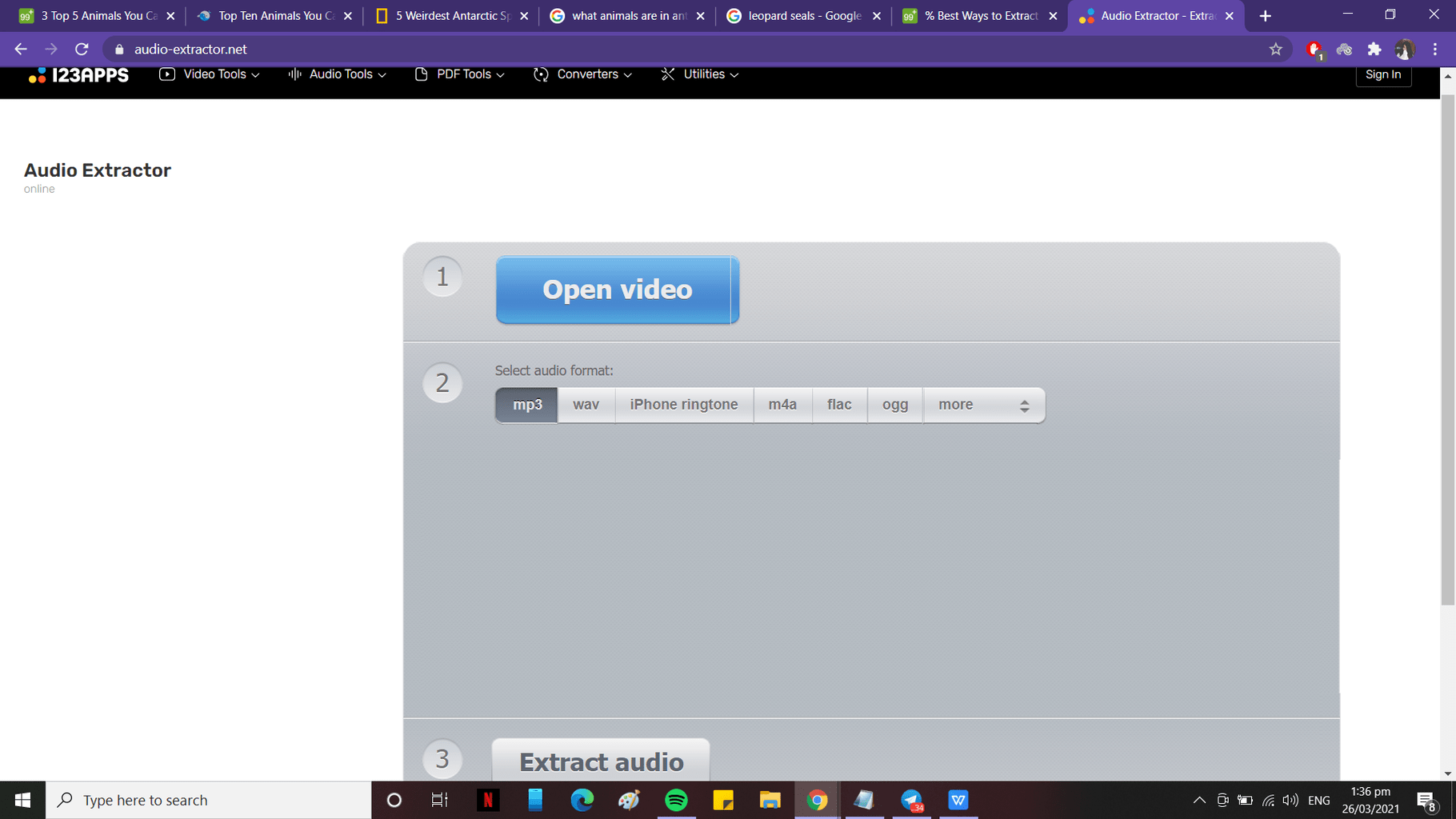 Here is a step-by-step guide on how to extract using Audio-Extractor.net:
1. Visit the website
Go to the website of the online service, Audio-extractor.net.
2. Choose your video and audio format
Upload and open your video on the website and choose which format you want the audio to be extracted into.
3. Extract the audio
Extract the audio by clicking the "Extract audio" button on the lower part of the screen, wait, and download your audio file.
How to Extract Audio with a Mobile App
If you prefer using your mobile phone to extract an audio file from a video recording, you can try a free mobile app available for download. An example of such a service is the Extract Audio from Video app.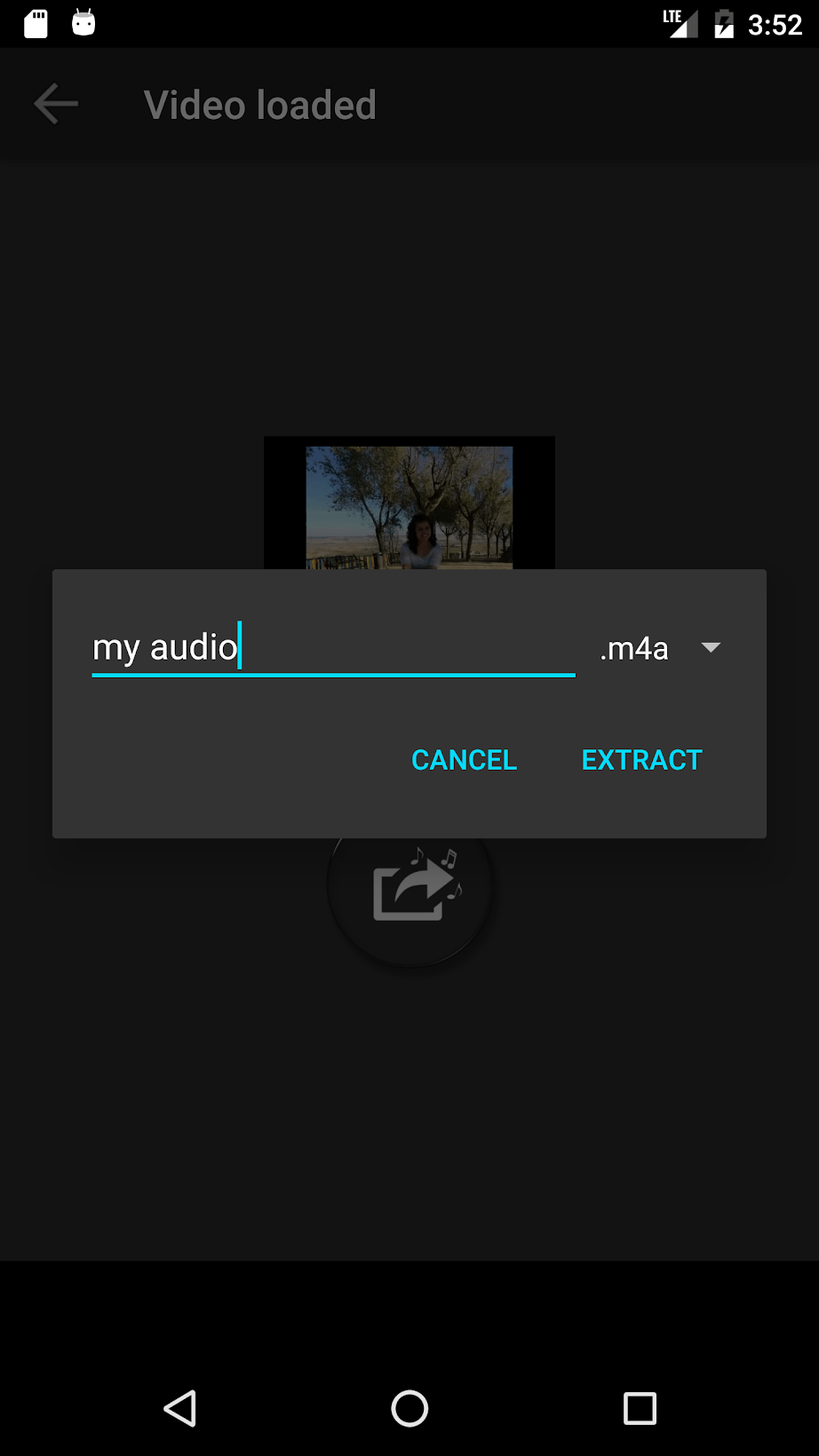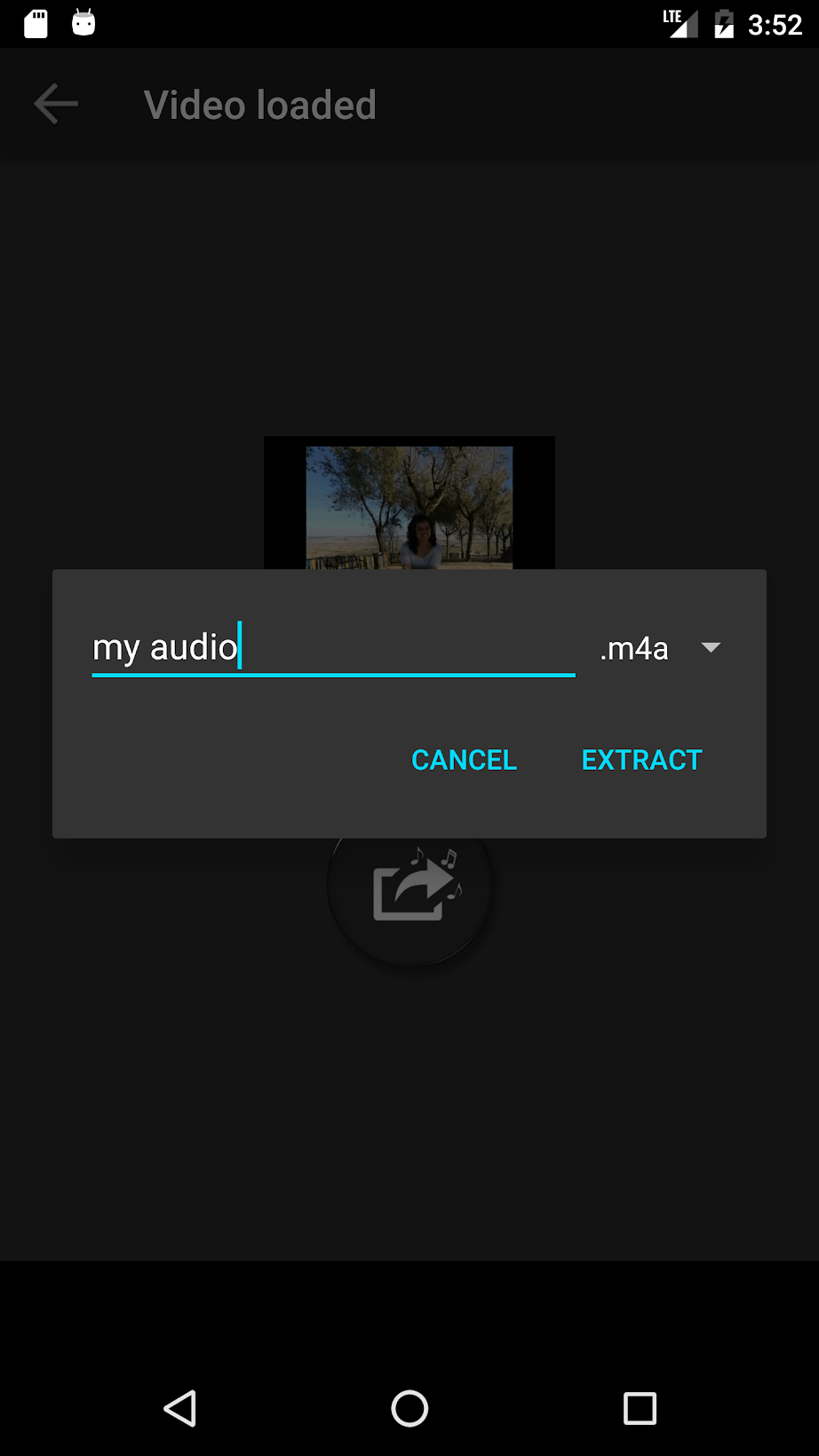 To extract an audio clip using this mobile app, follow this easy step-by-step guide:
Download and install the mobile application on your phone.
Open the mobile application after installation.
Choose and upload the video you want to extract the audio from by clicking the button in the screen center.
Input the filename you'd like to give the audio file and choose your preferred audio format after picking the video file.
Proceed to extract the audio from the video and wait.
Lastly, after extracting, simply download, share, or play the audio file.
Choose the Best Way for You to Extract Audio
With continuously advancing technology, it is now easy to separate the audio from a video and save it as a separate file. Many online services, downloadable tools, programs, and even mobile applications are available and accessible to do the job for us with just a few clicks. The best part is that most of them are free and don't need payment or subscriptions to use. Choose the best way to get your audio file according to your preferences and resource availability, and consider your task knowledge.