Introduction to Wondershare MirrorGo's features
iPhone devices have the tag of the best mobile phone devices courtesy of the features that they sport. One of the features that you will appreciate when you use an iPhone device is the mirroring function, which allows you to transfer your screen's display to your PC.
While it may seem impossible, you can mirror iPhone to PC, giving you a more prominent display that allows you to perform various tasks. Mirroring iPhone to Mac devices is an effortless process, where you can use plenty of resources like AirPlay for this function.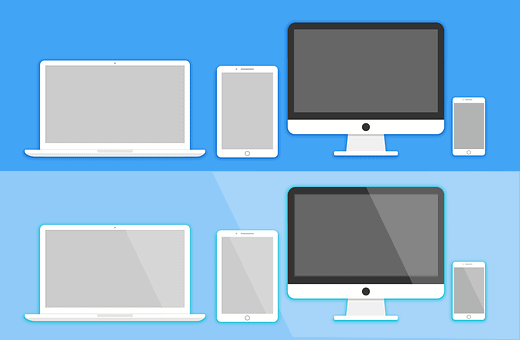 What if you are using a Windows device?
How do you go about with the mirroring procedure?
In this case, you will need the right tools to help you expand your display.
An ideal tool to use in this case is Wondershare MirrorGo, a downloadable program you can use to mirror your iPhone to PC.
MirrorGo is a product under Wondershare, which will help you in the mirroring function. Wondershare has plenty of tools, which you can see by perusing its website, and aside from the mirroring tool, you will come across a backup and data recovery tool, among many more.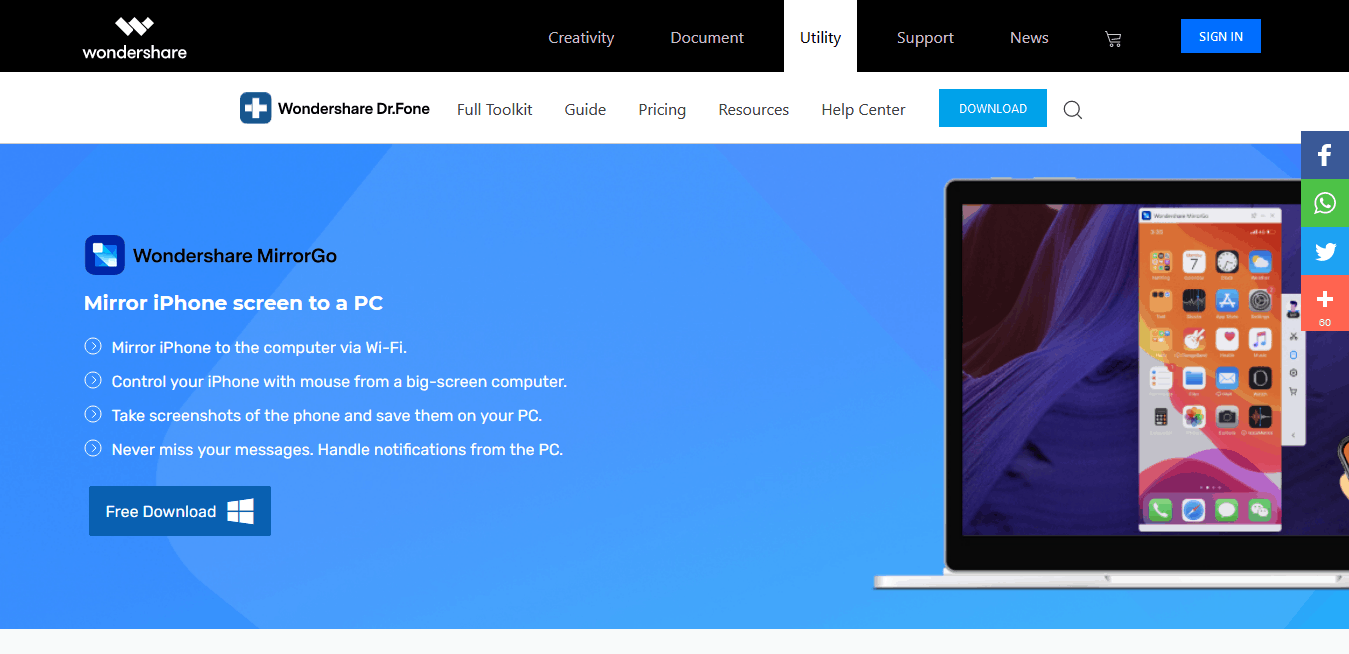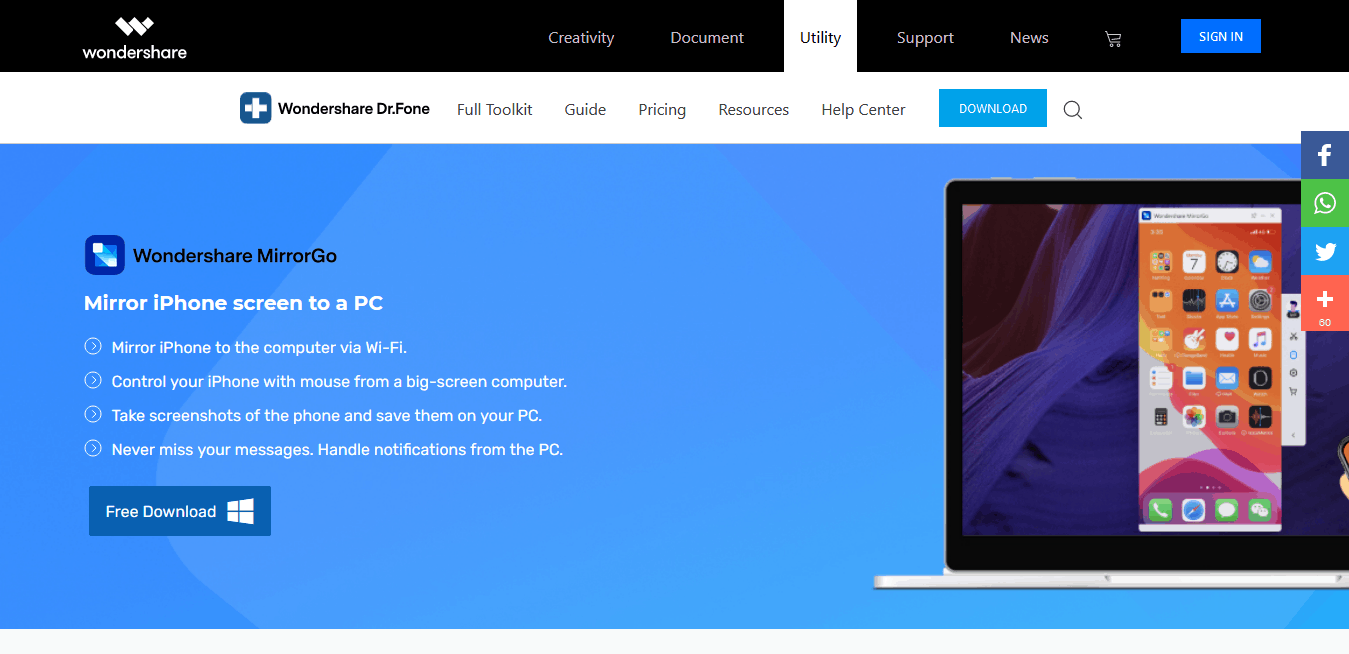 To use MirrorGo, you have to download it to your device and pair it with your phone using the same Wi-Fi network, and you are good to go. It is a simple process that shows you how user-friendly this software is. This program manages to stand out among the best in the mirroring function due to the many features it has. Below are some of the features you will come across when using Wondershare MirrorGo.
User-Friendliness
When looking for an ideal tool to perform any function, you should look at its user-friendliness to determine how well it will suit you. A look at Wondershare MirrorGo, and you will realize that it is one of the friendliest programs you will come across, noticeable through many aspects.
First of all, you do not need a technical background to be able to use it. It is easy to use, and you can rely on the simple tutorial on its website to help you learn its ropes. After downloading it, the rest of the process of using it is simple, where you connect your phone to the same Wi-Fi connection as your computer and watch your display expand.
Phone Functionality
When you mirror your iPhone to your Windows PC, you transfer most of the operational features to your computer, and you can run it remotely. In short, you transfer your device's functionality to PC; hence, you can run your tasks effortlessly.
You can use MirrorGo to take screenshots of the activities you are handling on the monitor and choose a suitable location to store them. You can also manage your oncoming notifications, for example, messages, alerts, and many more.
When you tweak the right settings, you are in apposition to navigate your iPhone on PC, allowing you to check on your apps and menu options.
The Free Trial Version
There is MirrorGo's free trial version, which you can try out to see what the software has in store for you. On the download option on MirrorGo's homepage, you can select the free trial version, which will start downloading automatically. A thing that you will notice is that this toolkit will download fast as it is lightweight, and despite being a free version, it will still offer you plenty of resources that will make mirroring a straightforward engagement.
The trial version is ideal for one-time users or if you want to know how this utility works before you decide to maximize on its many resources and go for the premium versions.
As earlier mentioned, if you want more resources at your disposal when using Wondershare MirrorGo to mirror iPhone to Windows PC, you can try out its premium versions. These versions are paid subscriptions, where you pick a suitable package, pay for it and enjoy the niceties it has for you.
MirrorGo has three packages; monthly, yearly, and quarterly subscriptions, which you pay for according to their respective descriptions. The monthly package allows you to pair unlimited mobile devices and up to 5 PCs, with auto-renewal and you cancel at any time. To buy into this package, you will part with $5.95 per month.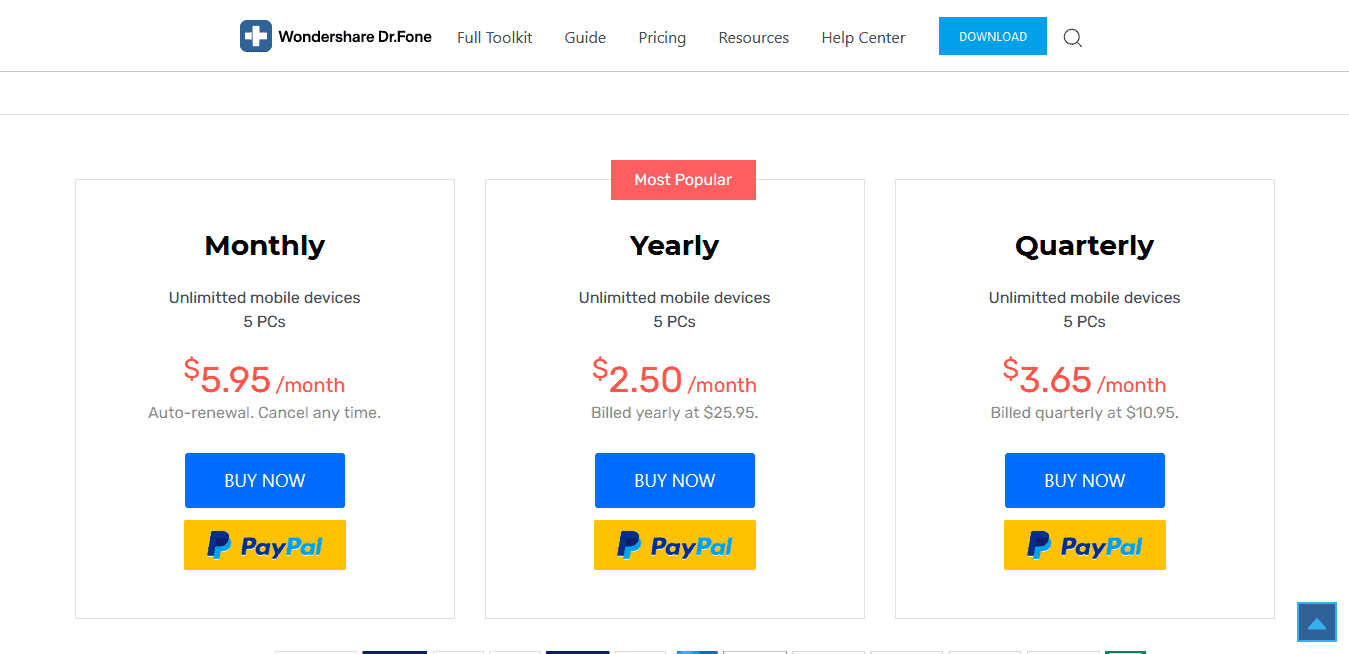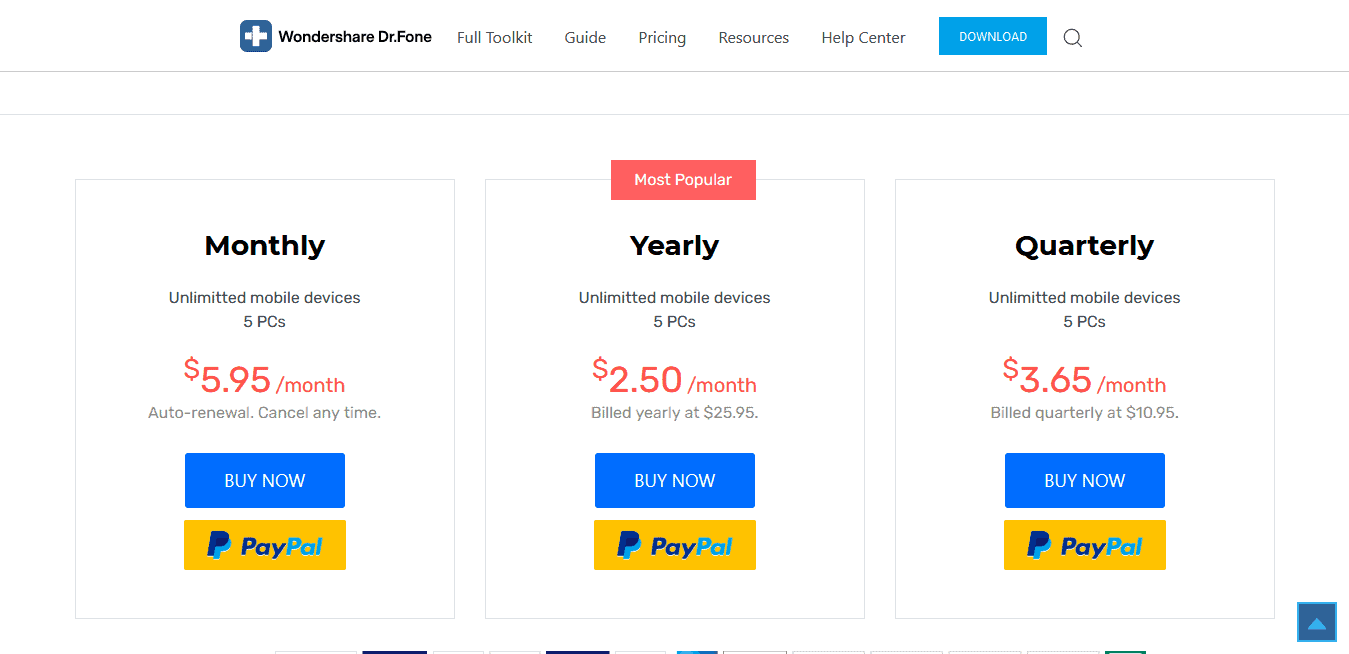 You can also opt for the yearly package, which you can use for 5 PCs and unlimited mobile devices. For this package, you pay $2.5 monthly, billed yearly at $25.95. Finally, the quarterly package allows you to connect unlimited mobile devices and five computers. To get into the quarterly subscription, you will pay $3.65 per month, billed at $10.95 quarterly. You can pick the one you prefer the most depending on your budget.
Other features you will benefit from include reverse control, notification management, and the ability to record and take screenshots, among many more.
Security
Wondershare MirrorGo is one of the most secure toolkits you will ever come across. It does not put your information and device at risk of malware infestations, affecting its functionality. This is another feature that enhances this program's user-friendliness.
Customer Support
If you have any problem when using MirrorGo, you can contact the customer support team, which will come to your aid to offer you an excellent solution. The professional team responds promptly to your queries for you to continue enjoying the product.
Device Compatibility
Another fantastic thing about this iPhone mirroring software is its versatility, which you will notice from its compatibility with different operating systems. Actually, it works with Windows operating systems, accommodating both old and newer versions. It works on Windows XP, Vista, 7, 8, 8.1, and 10.
Conclusion
There are several situations where you might want a more prominent display on your iPhone, something that is possible courtesy of Wondershare MirrorGo, an iPhone to PC mirroring tool.
It allows you to replicate your screen on your computer, and you can use it in several instances like gaming, meetings, or if you have a damaged screen. Download MirrorGo, and if possible, try out the premium version to get the best out of it.