Best Software Choices for Editing PDF files in 2021
The most noteworthy PDF editing software makes the task of modifying PDF files quick and easy.
If you're looking for the best software choices for editing PDF files, both subscription-based and free, you've come to the right place. Below, we'll show you what the best PDF editing software is, as well as free online PDF editors and converters.
Desktop PDF Editor for Windows and iOS – Adobe Acrobat DC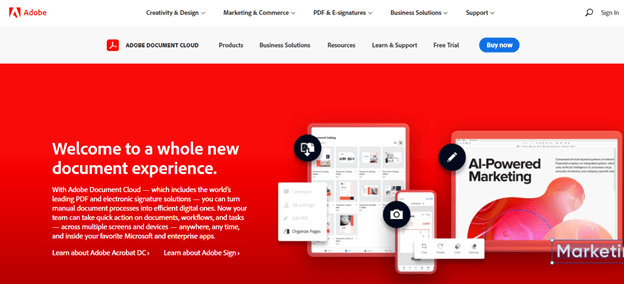 As the creator of the PDF format, Adobe is at the forefront of the PDF editing software race. Adobe still retains many of the rights of the PDF format, which it licenses to other software manufacturers. This is the primary reason why many "free" PDF editors offer premium plans that come with more features (tools, shareability, storage) than their standard plans.
Adobe Acrobat is the only software that offers every PDF editing tool that professionals could ever need—from editing, converting, sharing, signing, and even scanning. This program is compatible with both Windows and iOS and even has mobile apps for Android and iOS devices. Due to the wide assortment of PDF editing tools, there's a slight learning curve that can inhibit workflow. However, Adobe's helpful customer service and helpful tutorial videos (on Adobe website and YouTube) can help new users master the program in no time.
Pricing: $24.99/month, $179.88/year
Pros:
It offers every PDF editing tool imaginable
Stable software
Has cloud storage
Compatible with both Windows and iOS
Cons:
Complex interface; may require special training
Expensive
Requires over 900 MB of hard drive space
Online PDF Tools
Even though Adobe Acrobat is unanimously the go-to program for editing PDF files across multiple platforms, it's not the only option. The following PDF editing platforms offer completely free services that students and professionals should take advantage of.
Xara PDF
Xara PDF
is a free, online PDF editor with advanced features to help convert, annotate, edit or split PDF files with ease. Unlike other editing tools that only allow small edits or annotations, Xara allows you to transform all the elements of a PDF document into a fully editable format. This means that you can change text, fonts, add or remove images, all while preserving a flawless look.
It can also come in handy when you need to repurpose any elements of your PDF document: you can take any images, texts, or graphics and incorporate them into a new document.
The tool is 100% free to use and no software download is required, however, you have to create an account on Xara Cloud to access its features.
With Xara Cloud, all your work will be safely saved in your account and you can access it anytime, anywhere, and from any device.
Pros:
1. Convert other file formats to and from PDF with ease.
2. Trim the current page or entire document at once in handy.
3. Allow you to edit texts, images, and other objects.
4. Annotate PDF documents
4. Save images or graphics from PDF as other file formats or use them in new documents
5. Replace images on the existing PDF document.
Cons:
1. Since it's an online software, you will need to have internet access to be able to use it.
PDFEscape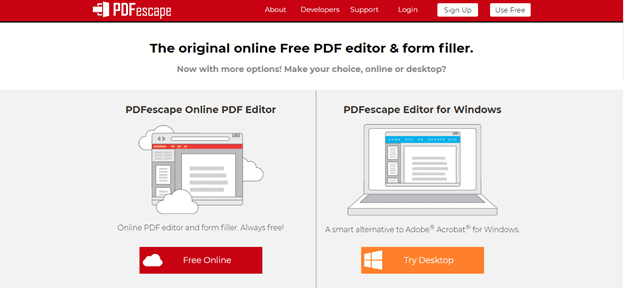 PDFEscape is the ideal online PDF editor for small files. This service is available as both a web-based platform or a downloadable desktop app for offline PDF editing. The desktop app is considerably more powerful and responsive, and it also lets users add content to pre-existing PDFs. If you want to use PDFEscape for free, then your only option is to use the web-based version.
The free version of PDFEscape lets you create new PDFs from scratch and offers basic PDF editing tools like adding and covering text, inserting images, leaving notes for other users, and cropping pages. The only major limitation of the PDFEscape for free is its file size limit of just 10 MB. Unless you're editing several hundred pages in one file, the file size limit shouldn't cause any problems.
Pricing: Free (browser), $2.99/month (Premium), $5.99/month (Ultimate)
Pros:
· Free online PDF editor
· No watermark
· Saves files for seven days on the free plan
Cons:
· PDF converter tool only available with a paid plan
· Has ads (no popups)
· Protection features only available in Ultimate
PDFChef

PDFChef is arguably one of the most straightforward online PDF tools of all time. Like PDFEscape, PDFChef has both a completely free online editor and a downloadable app for desktops (Windows and iOS). The browser-based tool offers basic editing tools, such as merging, splitting, rotating, deleting, and rearranging pages. It also converts files (Word, Excel, TIFF, EPUB, and image file formats) to and from PDF with a few quick clicks.
As for the desktop app, you can purchase one of three packages, starting from PDFChef's 1-year subscription to PDFChef for Teams (three keys for three separate computers). The two-lifetime plans let you add digital signatures, modify text within PDFs, secure your PDFs, and remove the slight limitations on each tool.
Pricing: Free (browser), $29.95/year, $39.95 (lifetime license, one user), $99.95 (lifetime license, three users)
Pros:
· User-friendly interface
· Quick loading times
· The free version offers basic conversion and editing tools
Cons:
· Limited tools in free version
· 3-page per PDF limit
Online OCR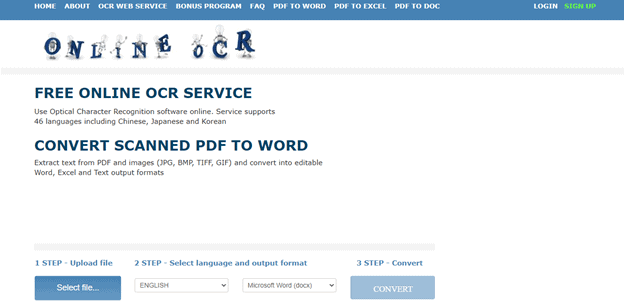 If you want to extract text from scanned PDFs, you'll need to use an app with optical character recognition (OCR) capabilities. Online OCR is a free online OCR platform that reads and converts image-based PDFs into searchable text. The simplistic interface makes it the best OCR software for newbies.
The extraction process is done in only three steps. Upload the file, select the language (46 available languages), and click convert. You can also select how you want to save the text (Word, Excel, or TXT format). Unregistered users can upload files up to 15 MB or 15 files per hour, while registered users are limited to 200 MB per file. If you need to extract text from large files, then you'll have to purchase additional pages via the website.
Pricing: Free to use, variable cost (purchasing pages)
Pros:
· Minor restrictions
· Uploaded files are deleted after closing the conversion process
· Multilingual
Cons:
· No offline support
· Loading can be slow at times