Alison Maloni is selected to be on the Advisory board of Boink Live. CEO and Chairman of Boink Live Ariz-Michael Gilburd have recruited Alison Maloni to join the Board of Advisors.
Recently the Boink Live Streaming has launched an app free for download on iTunes store, Apple and Android; and through its website http://www.boinklive.com with plans for broadcasting and live streaming videos.
Six months ago the board of directors elected Michael Gilburd as Chairman & CEO of this social media sharing and social networking company.
The former managing director of American Express and Business valuation and intangible appraisal company ValuCorp's remaining President and Chief Executive Officer along with Board of Directors member Joe Abrams as part of this new appointment, Michael Gilburd was searching for Advisory Board Participants with specific industry experience. The search ended with the recruitment of John Fanning, Joe Abrams, Don West, Rich Hlavka and now Alison Maloni to be on the advisory board of Boink Live.
CEO of Alison May Public Relations, Alison Maloni has 20 years of experience in the media industry. Alison Maloni is also a former journalist who is known for her expert storytelling, which received national and international media attention to her clients. Alison's clients include Moscow Ballet, the military, authors and major companies across the country. Her experience in the media industry and knowledge of the news industry have helped her gain national media attention for all of her clients.
Along with her work as a publicist, Alison Maloni is a keynote speaker and moderator. She also hosts an online show called, The Hustle, which features people bringing out a change in the world in various walks of life. She has also been featured in various media outlets which includes Time Magazine, Newsmax, Daily worth, BuzzFeed, etc along with various media and public relations articles.
The services of The Boink Live Strategy includes:
Virtual Gifts
Pay per press
Slide advertising
Video advertising
Logo Advertising
Bonk live debit card
Bonk live monthly and yearly VIP membership
Original entertainment including talk shows, cooking shows, comedy talks, singers, all from famous celebrities, Banking services, payment services and phone pay services, etc.
About http://www.boinklive.com
Boink Live Streaming Corp was formed as a Delaware corporation for creating a social media platform based on broadcasting and live streaming. Their offices are in the Philippines, Indonesia, The United Kingdom (UK) and the United States of America (USA). The application was formed by their technical partner iMagically, IDAP corporation in Ukraine as production builders for the app and Castle production in Indonesia. The beta version of the app is now available on Google iTunes store, Apple store and works on all Android and Apple devices. The application is available for download for free and it enables users to earn rewards and cash while streaming live videos and broadcasting and watching live videos.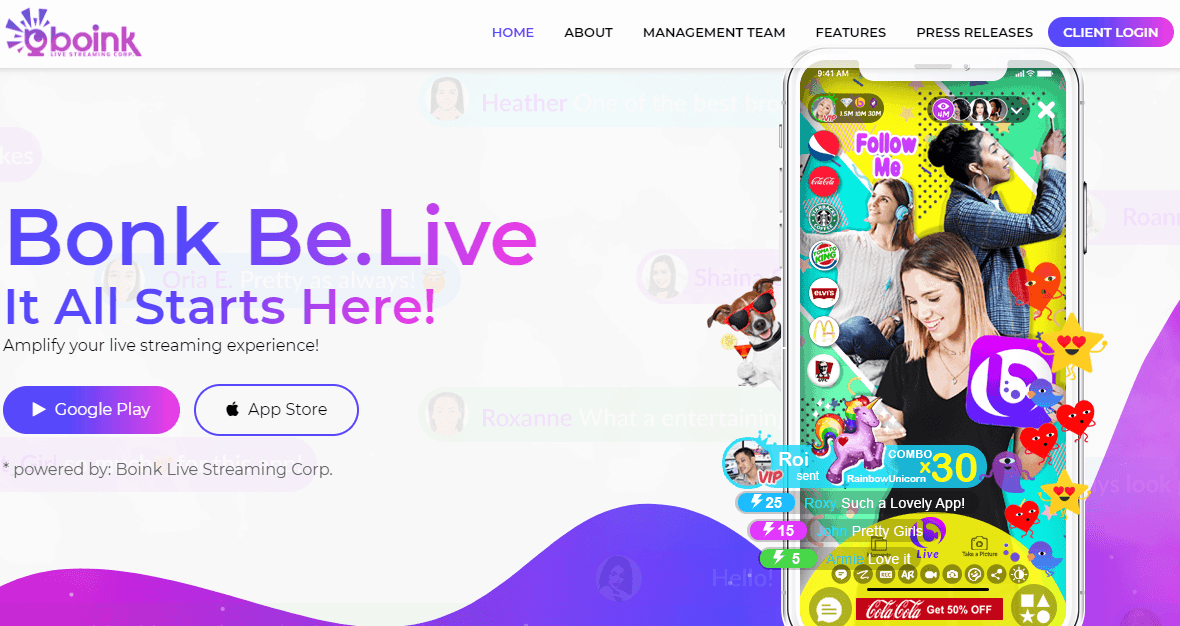 With just one click users can go live, broadcast themselves, meet and interact with new people, connect with their favorite celebrities and gain followers by sharing their attitude, lifestyle and moments.
The Application features live streaming and chat which will enable the users to comment and chat while they are streaming live; the applications features stickers which stay on the face while streaming and live filters and makeup effects to make the streaming and broadcasting of live video more effective.
The application comes with live feed search using hashtags to search for the videos and broadcasters in line with the hobbies and interest, hobbies and personalities of the users. The Boink live stream can also be shared on other social media platforms like Facebook, Instagram, snapchat, etc. to gain the followers. The application will enable their users to send gifts to their favourite broadcasters. These gifts can be converted into gold bars and can be redeemed for national currencies. Boink live stream will bank on the growing and booming entertainment market across the world through the production and promotion of high-quality live video streaming entertainment.
Safe Harbor Statement
The press release contains many forward-looking statements that are subject to various risk and uncertainties.
Such forward-looking statements are made compulsory to comply with 'safe harbor' provision of the Private Securities Litigation Reform Act of 1995 and may include the statements regarding the estimates of future financial performance or result of operations, future contracts, recurring subscribers, revenue growth, cost of revenues, operating expenses, cash flows, net loss and interest expense.
Unless it is required by law, we have no obligation to publicly update or revise any forward-looking statements, whether because of change in information, future events or changes after the date of this press release. Information regarding risks and uncertainties that may cause actual results which may differ materially from those projected or suggested in the forward-looking statements can be found in the company's private Placement Memorandum.