We at TechGeekers believe in exploring and serving the best tech recipes found around the internet over here, which includes refreshing apps, software, gadget review, How to's.
In such a short span of time we achieved a good success in sharing knowledge. Majority of our visitors are from India, United States, United Kingdom and China . Most of the visitors come from search engines and social networking sites. Though, in process to maintain servers, we offer various advertising options to interested advertisers.
Please keep in mind that your product or service must be relevant to our readership and also provide the ads/banners/buttons, which will be displayed on our site. Our site loading time is very fast and takes only 766 msec to load.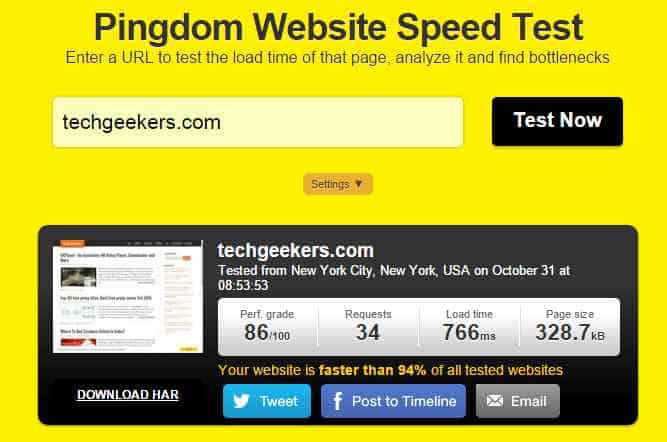 You can check loading time here.
TechGeekers Statistics
Monthly Unique Views: 2.5 Lac+

Daily Unique Visitors 9000+

Active Newsletter Subscribers: 3000+
Facebook Likes: 2300+
Published Articles: 200+
Alexa Rank: 130,585
Alexa Rank in India : 19,216
Founded in Mar 09, 2014. (2+ years old with daily updates)

Advertising Options
Here are the advertising options you can avail on Tech Geekers.
1. Banner Adds
We invite brands to put their banners on our website to get a huge exposure. If you wish to put your banner with a link to your business site on our blog then you are welcome. We are currently serving the following banner slots. You may choose any one from the below adsizes at the cheapest prices.
Note: We don't accept options like pop-up and automatic video or sound advertisements in TechGeekers.
2. SPONSORED POST
Sponsored post is among the most popular way to boost brand awareness and exposure to the right audience. We write comprehensive reviews about business start ups, apps, services and softwares that improves the brand/product/service awareness among our thousands of readers. Our blog readers are keenly interested in reading about softwares,Apps,  If you wish to sponsor our blog by a sponsored post then your post will also be shared on social networking sites to boost the post exposure
All the sponsored things done through the site techgeekers will be valid for 2 year. We may or may not remove the sponsored things after 2 year. Also during the email communication the "lifetime" word stands for 2 year. It includes all forms of Sponsorship done through techgeekers including sponsored text links.
Kindly do note that if you are Paying us through PayPal then you also need to provide transaction charges.
3. Press Releases
We publicize your latest PR in our social media networks to reach your product to the end user.
4. Sponsored Text Links
Sponsored Text Links is a type of advertising option available in articles. Which includes a clickable text message. Advertisers may use up to 20 characters for the headline and up to 40 characters for the message that links to the URL of their choice.
What will You Get ?
Brand/Product/Service Exposure in front of thousands of readers.
1-2 Do-follow backlinks.
Improved SERP rankings of your product/service website.
The sponsored article will stay at the homepage of our site for at least 20 business days, either through content area or featured link or both.
Payment Mode
Paypal, Payuneer, bitcoin etc.
Direct Bank Transfer for Indian customer
For Any Advertising/Deals/Sponsorship opportunities or any queries, feel free to contact us. We will respond within 24 hours.
mail: [email protected]